Happy Winter, Clients and Friends!
We hope you and your family are thriving in the new year and excited about the opportunities ahead. As we enter a new decade, we can't help but reflect on where we've been. As 2019 drew to a close, it not only marked the first time ever that the U.S. economy started and ended an entire decade without entering a recession. Looking back ten years, as we rang in the new year in 2010, our economy was still grappling with the aftermath of the most severe economic recession to grip the United States since the Great Depression of the 1930s. Fast forward to December 2019, and the Dow Jones Industrial Average (DJIA) and S&P 500 were posting record highs in back-to-back trading sessions, during what had become the longest bull market on record.
GDP also increased in 2019, to 2.3%. which is in line with average growth in this economic cycle. However, based on data from the Bureau of Economic Analysis, business spending was a drag on growth for the third straight quarter. To learn more about what you can expect in the months ahead, be sure to read our full Market & Economic Update below.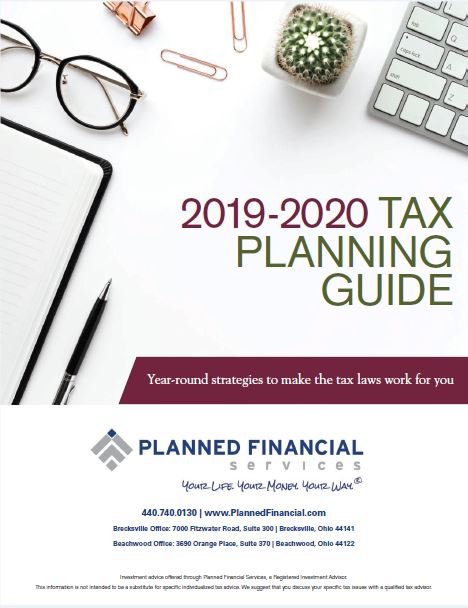 We also want to remind you that tax season is upon us! If you haven't already, be sure to download your Planned Financial Services 2019 – 2020 Tax Planning Guide using the link below. The guide provides information to help you prepare your 2019 returns, as well as tax strategies you may want to consider going forward.

What's in It for You?
At-a-glance guide to your 1st Quarter 2020 Frank Talk newsletter:
2019 Highlights
2020 News & Events
♦ Frank is Recognized in Forbes as a 2020 Top Wealth Advisor in Ohio
♦ Save the Date for our 12th Annual Cleveland Economic Summit
Market & Economic Update
2019 Highlights
PFS Celebrated 25 Years Helping Clients Pursue their Return on Life® - Thanks to you, our clients and friends, we had the great pleasure of celebrating our 25th Anniversary as a firm. We were blown away by the number of clients, friends and family members who took the time to join us on a Thursday evening in late October to celebrate this achievement at Sapphire Creek Winery & Gardens. I want to reiterate our gratitude to all of our clients and friends for believing in us—especially in those early years—and trusting us to guide you in making informed and confident decisions. We look forward to helping you and your family work toward enjoying life on your terms for the next 25 years!


PFS Hosted the 11th Annual Cleveland Economic Summit – In June, we hosted our 11th Annual Cleveland Economic Summit at the world-renowned Cleveland Botanical Garden. The 2019 Summit featured two distinguished speakers: John Lynch, Executive Vice President and Chief Investment Strategist at LPL Financial and Joe Marinucci, President and CEO of the Downtown Cleveland Alliance.


PFS Welcomed Joseph M. Rogers, II as Finance and Operations Director - Joe

supports our team of experienced wealth advisors and financial services professionals to ensure alignment between the firm's operational and strategic initiatives across business functions, including

client services, human resources, finance, marketing and sales, and information technology.


DETER, DETECT & DEFEND Seminar - In January 2019, we hosted a live seminar on Cybersecurity and Identity Theft Protection at the Corporate College East in Warrensville Heights, Ohio, where we had an opportunity to welcome many clients, friends and their guests. The seminar focused on ways to help protect your personal information and devices to combat growing threats to your personal data, accounts and identity. Attendees gained valuable tips on how to deter, detect and defend against identity theft, cyber-crimes, online fraud and scams.


2019 Smart Business: Smart Women Breakfast and Awards Program - For the third consecutive year, Planned Financial Services participated as a program sponsor for the Northeast Ohio Smart Business

magazine's

Smart Women Breakfast in April 2019. The annual event addresses issues facing women in the workplace and recognizes the achievements of leading businesswomen, inspiring male advocates, and effective women's programs through the Smart Women Awards.


PFS Participated in 2019 Smart Business Family Business & Business Longevity Conference – Frank was proud to participate as a program sponsor and panelist for the Smart Business: Family Business Conference and Family Business & Business Longevity Conference, on September 19, 2019. One of the topics discussed at this year's conference was the benefits of establishing an advisory board for privately-owned businesses. If this topic interests you, download our step-by-step guide to establishing an advisory board.

2019 Recognition
2020 News & Events
Frank Is Recognized in Forbes as a 2020 Top Wealth Advisor in Ohio
For the third consecutive year in a row, Frank was recognized as a Top Wealth Advisor in Ohio in the annual Best-In-State Wealth Advisors list published by Forbes. According to Forbes, the annual list spotlights the nation's top-performing advisors, evaluated based on a methodology developed by SHOOK Research. Advisors are also evaluated based on personal interviews, industry experience and revenue trends, among other criteria.

Coming soon! 12th Annual Cleveland Economic Summit
Stay tuned for information on our upcoming 12th Annual Cleveland Economic Summit which will take place on June 10, 2020 from 4pm – 6:30 pm at the Cleveland Botanical Garden. Watch for more information and a "Save the Date" email in your inbox in the weeks ahead.
Market & Economic Update
*News that the coronavirus—known as COVID-19—has spread to South Korea, Italy, Japan, and Iran, leading to massive selling around the globe, with many European markets closing down more than 4%. U.S. The Dow fell 1031.61 points on February 24, 2020, marking the third-largest one-day drop ever. Although this made all the headlines, it is very important to remember to look at the percentage drop to get a more apples-to-apples comparison. The 3.56% drop ranks as the 254th largest drop ever, significant but quite a different story.
Although the fear over the pandemic is real, and the potential slowdown in the global economy could hurt 2020 corporate profits, let's not forget that big down days are part of what long-term investors have had to accept. An average year has more than five separate days with at least a 2% correction for the S&P 500 Index. Even last year, with stocks up 30%, there were five separate days that saw the S&P 500 close down at least 2%.
The United States had held up relatively well in the face of the growing COVID-19 crisis. In fact, the S&P 500 actually gained 1.6% a month after the first reported coronavirus case in the United States on January 21. As the chart below shows, stock market gains historically have been normal after the initial outbreak of various health crises have reached the United States.
Now, could the coronavirus impact the global economy more than previous epidemics and pandemics? That's clearly a strong possibility, as global supply chains have come to a halt in the world's second largest economy (China). The good news, though, is corporate America just reported a very impressive earnings season, so the chances of an impending U.S. earnings season recession appear quite low.
Lastly, we'd like to stress that pullbacks and market corrections happen and are part of long-term investing. In fact, since 1980 the average year has experienced a pullback from peak to trough of 13.7%. Even more impressive: Looking at the 29 years that stocks have been green since 1980, we see the average year had a correction of 10.9%!
We will continue to monitor the impact of the coronavirus situation very closely. In the meantime, we would suggest that long-term equity investors consider staying the course and contact us with any questions or concerns about their specific strategies.
We will continue to monitor our portfolios in light of the COVID-19 crisis and other factors impacting the markets, and report on any changes we make to our portfolios in the weeks and months ahead.
Closing Remarks
If you, or someone you know, has questions or concerns about your personal investment strategy or business finances, please don't hesitate to reach out to your experienced team of wealth advisors at 440.740.0130. We are always honored to help our clients' friends and business associates take greater control of their future with guidance from the PFS team. We welcome and are grateful for the many introductions our clients continue to provide.


Be sure to join or follow us on Twitter, LinkedIn, Facebook and YouTube.



Click here for a summary of the material changes made to our ADV Part 2A between March 29, 2019 and February 18, 2020. To review our firm's privacy policy, full ADV Part 2A Firm Brochure and ADV Part 2B Brochure Supplements, please visit our website at PlannedFinancial.com/contact-us/. You may also request copies of these current brochures by contacting Ashley Benton-Cooper at Ashley@PlannedFinancial.com or 440.740.0130 ext. 231.
To obtain further registration information about Planned Financial Services, please visit adviserinfo.sec.gov.

Real People. Real Answers.
Health, Happiness, and Good Fortune,


Frank Fantozzi
CPA, MST, PFS, CDFA, AIF®
President & Founder


*IMPORTANT DISCLOSURES
This material is for general information only and is not intended to provide specific advice or recommendations for any individual. There is no assurance that the views or strategies discussed are suitable for all investors or will yield positive outcomes. Investing involves risks including possible loss of principal. Any economic forecasts set forth may not develop as predicted and are subject to change.
References to markets, asset classes, and sectors are generally regarding the corresponding market index. Indexes are unmanaged statistical composites and cannot be invested into directly. Index performance is not indicative of the performance of any investment and do not reflect fees, expenses, or sales charges. All performance referenced is historical and is no guarantee of future results.
Any company names noted herein are for educational purposes only and not an indication of trading intent or a solicitation of their products or services. LPL Financial doesn't provide research on individual equities. All information is believed to be from reliable sources; however, LPL Financial makes no representation as to its completeness or accuracy.
*Some research was provided by LPL Financial, LLC, February 2020. PFS nor LPL make no representation as to its completeness or accuracy.
Planned Financial Services, LPL Financial, Smart Business and Forbes magazines, SHOOK Research, the Weatherhead School of Management, Case Western Reserve University, and Cuyahoga Community College are all separate, unaffiliated entities.