Cleveland, Ohio - (October 2023) – Return on Life Wealth Partners is pleased to announce that Jessica Patton joined our independent financial and investment firm as a Wealth Planning Liaison. Jessica brings more than 15 years of experience in the financial services industry. Prior to joining our team, she spent more than 7 years collecting and analyzing data for the development of comprehensive financial plans. She works closely with our team of experienced wealth advisors to assist them in building comprehensive financial plans that reflect what matters most to each client.
In addition to participating in client discovery, on-boarding and review meetings, Jessica assists the team in preparing meeting summaries, reports, and action steps, and implementing plan recommendations tailored to each client's specific needs and preferences. Her broad financial services industry experience complements and further strengthens our firm's multidisciplinary team approach to providing a consistently exceptional experience to the high-net-worth families and business owners we serve.
"I'm pleased to welcome Jessica to our growing team," said Return on Life Wealth Partners President and Founder, Frank Fantozzi, CPA, MST, PFS, CDFA, AIF®, CEPA. "We look forward to her contributions as we strive to help each of our clients enjoy a life well lived through our personalized Return on Life® approach to managing wealth."
For nearly three decades, we've provided tailored strategies for the unique challenges high-net-worth families and business owners face as they seek to protect and grow their wealth. In October 2023, we changed our name from Planned Financial Services to Return on Life Wealth Partners to further emphasize our personalized approach to helping clients pursue the Return on Life® they desire, which focuses on supporting the goals and values each client defines as meaningful and purposeful in their lives.
The name change announcement coincides with the rollout of a set of aggressive new business goals. We expect to double the number of our employees over the next five to seven years and with an annual growth rate of 15%, we also anticipate doubling our assets under management (AUM) by 2029. Upon reaching these milestones, we will begin to transition to an employee stock ownership plan (ESOP).
About Return on Life Wealth Partners
Return on Life Wealth Partners is an independent Registered Investment Advisor (RIA) with headquarters in Cleveland. The team provides comprehensive wealth planning services to individuals, families, and business owners. By examining clients' lives before their money, Return on Life® aligns its advice with clients' values. With access to its Complete Family Office (CFO)℠ and Personal CFO™ services, Return on Life Wealth Partners aims to help clients achieve the milestones that matter most to them. This personalized approach also extends to the institutional and corporate retirement plan services available through 401(k) Prosperity®.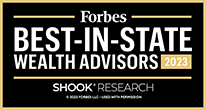 Frank Fantozzi was recently named a Forbes Best-In-State Wealth Advisor. The Forbes Best-In-State Wealth Advisor ranking, developed by SHOOK Research, is based on in-person and telephone due diligence meetings and a ranking algorithm that includes client retention, industry experience, review of compliance records, firm nominations; and quantitative criteria, including assets under management and revenue generated for their firms. Portfolio performance is not a criterion due to varying client objectives and lack of audited data. Neither Forbes nor SHOOK Research receives a fee in exchange for rankings

For additional information about the firm and our services, see our Disclosure Brochure (Form ADV Part 2A) and Customer Relationship Summary (Form CRS) brochure

Investment advice offered through Planned Financial Services, a Registered Investment Advisor.